District Profile
Bhilwara is situated between 25°.00' to 27°.50' North Latitude and 74°.03' to 75°.25' East Longitude
It is not on the record as how the name of Bhilwara was ascribed to the district Bhilwara.It came to be known as Bhilwara because it was mostly inhabited by Bhils in old days. These Bhils were eventually driven away towards the hilly tracts and interior places of less importance by the ancestors of the peasant settlers. Ironically enough ,now very few Bhils live in this area. Another version recounts that the present Bhilwara city had a mint where coins known as 'BHILADI' were minted and from this denomination was derived the name of the district. Over the years it has emerged out as the TEXTILE CITY of Rajasthan. Bhilwara district has made an important place for itself in the industrial map of the state. During the last decade the district has developed in to a leading place in the textile industry the in the country. There are 54 large and medium scale units with an investment of Rs. 8439.91crores approx employing about 20986 persons.
Bhilwara district has acquired place of prominence on textile map of the country. A total 10000 power looms have been established by 31st march 2006 with a production capacity of Synthetic fabric to a tune of 5 crore meters and having an investment of Rs. 492.19 crores providing employment to 20021 persons approximately.
Bhilwara is situated between 25°.00' to 27°.50' North Latitude and 74°.03' to 75°.25' East Longitude. It is 100 meters above the sea level. It is 260 km. away from Jaipur. Northern Border of the district touches district Ajmer, North-West Border touches district Rajsamand, South & South-East Border touches district Chittorgarh and East & East-North Border touches district Bundi & Tonk. The total length of the district from west to east is 144 km. while the breadth from North to south is 104 km approximately.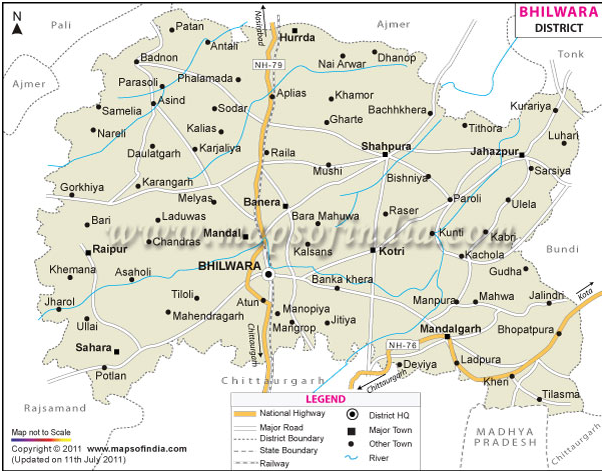 Facts Of Bhilwara District
| | Description |
| --- | --- |
| State | Rajastha |
| District | Bhilwara |
| District HQ | Bhilwara |
| Population (2011) | 2,408,523 |
| Growth | 19.60% |
| Sex Ratio | 973 |
| Literacy | 61.37 |
| Area (km2) | 10455 |
| Density (/km2) | 230 |
| Tehsils | Asind, Banera, Beejoliya, Bhilwara, Hurda, Jahazpur, Kotri, Mandal, Mandalgarh, Raipur, Sahara, Shahpura |
| Lok Sabha Constituencies | Bhilwara |
| Assembly Constituencies | Asind, Bhilwara, Jahazpur, Mandal, Mandalgarh, Sahara, Shahpura |
| Languages | Hindi, Rajasthani including Mewari |
| Rivers | Bedach, Kothari, Khari, Seasonal River - Banas |
| Lat-Long | 25.463115,74.769745 |
| Travel Destinations | Sawai Bhoj Temple, Gangabai Cenotaph, Mandakini Temple, Ramdwara, Mandalgarh, etc. |
| Government Colleges/Universities | Government Law College, Govt. College, M.L.V Government College, S.C.M. Government College, S.M.M. Government Girls College, S.P.S.B. Government College etc. |
Temperature
| Summer | Winter |
| --- | --- |
| 35.3 – 43.0oC max. | 21.7 – 25.3oC max. |
| 23.9 – 26.7oC Mini. | 3.1 – 6.7oC Mini. |
Area and Productivity of major kharif crops
| Crop | Area (ha) | Productivity (Kg/ha) |
| --- | --- | --- |
| Maize | 162797 | 716 |
| Sorghum | 43047 | 251 |
| Groundnut | 7730 | 283 |
| Soybean | 11562 | 642 |
| Sesame | 13489 | 139 |
| Black Gram | 70976 | 348 |
| Green Gram | 19111 | 228 |
| Cotton | 44385 | 631 |
Area and Productivity of major Rabi crops
| Crop | Area (ha) | Productivity (Kg/ha) |
| --- | --- | --- |
| Wheat | 124466 | 2577 |
| Barley | 25589 | 2322 |
| Gram | 45739 | 695 |
| Mustard | 61669 | 1169 |
| Cumin | 2181 | 468 |